NEW SHOW - SEPTEMBER 4, 5, 6 - LUBBOCK, TEXAS - Texas Tech Equestrian Center

3 full days of all NCHA approved classes, plus Futurity and Derby Open & Non Pro classes each day.
See Show Schedule tab for full class schedule and entry fees
MUST RESERVE STALLS BY 8/31/2020. CALL 620-664-7230
**NO OUTSIDE SHAVINGS ALLOWED**

Congratulations to our sister club,
Palo Duro CHA,
on being named the 2020 NCHA Affiliate of the Year runner up.
---
CONGRATULATIONS!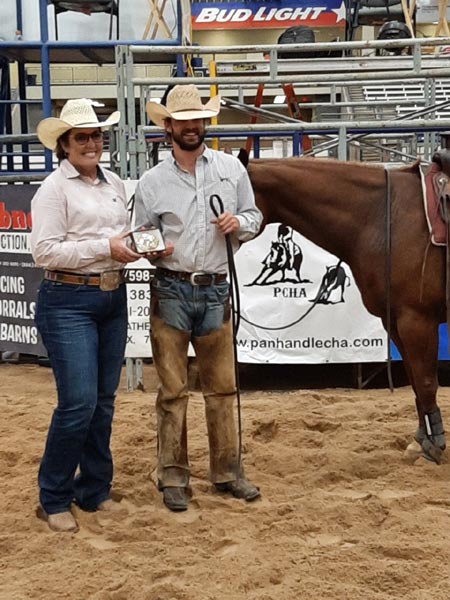 Jason Fenton won the Buckle class on August 1, riding Desde El Comienzo, owned by Josh and Amy King. He is shown receiving his buckle from PCHA Awards Chairman Sherryl Courson. Jason is getting ready to leave on a trip for the mission field and had told his friends, the King family, that he would like to win a buckle before he had to leave, so they entered him up on warhorse Desde El Comienzo (aka Jake From State Farm). Thanks to Jason and the King family for coming to our shows and helping promote cutting!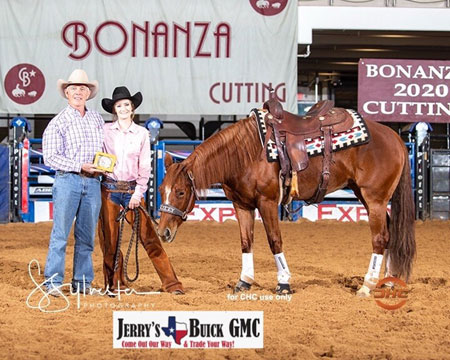 Jessica Floyd marked a 216 on her horse Smooth Lil Kit Kat
to claim The Bonanza Cutting 5/6 50K Amateur Championship.
Congratulations, Jessica!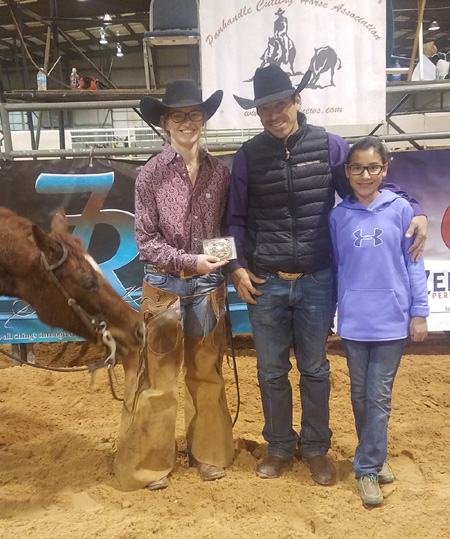 Courtney Hurt of Canyon, TX
won the January 2020 Buckle Class riding Cat Larapin.
SADDLES AGAIN!
Palo Duro CHA & Panhandle CHA are once again joining together to offer saddles in all classes.
You must show in 60% of all shows produced by Palo Duro CHA & 60% of all shows produced by Panhandle CHA.
PCHA dates can be found here. Palo Duro dates are located at palodurocha.com
If you would like to help out as a sponsor for the saddles,
Lee Ann & Cheryl will be happy to accept your donation in any amount.
---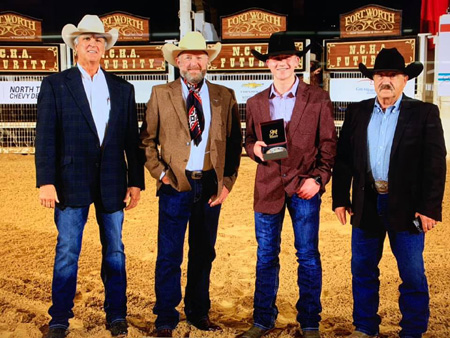 Panhandle CHA nominee Cash Carpenter was honored at the NCHA Open Futurity Finals as the 2019 Todd Drummond Award winner. Cash is pictured receiving his award with Vice-President Elect Steve Norris, Executive Director Jay Winborn, and President Ron Pietrafeso.
We are so happy and proud for Cash!!
---
HOST HOTEL: Comfort Inn & Suites, 2101 I-40 East, Amarillo, TX (806) 331-7829
Ask for Angelica for help with reservations.

2020 Scheduled Shows:
click here to view our show schedule